A procedure in which intense pulses of light are used to penetrate deep into the skin. IPL photo rejuvenation allows the skin tone to become more even and causes blood vessels below the epidermis to constrict which reducing redness, discoloration and fine lines.
Intense Pulsed Light (IPL), aka photofacial, is a way to improve the color and texture of your skin without surgery. When the skin is heated, the body gets rid of any unwanted skin cells. Unlike lasers, IPL has more than one wavelength and can treat more than one skin condition at a time. This treatment targets pigment and vascular irregularities, which helps to smooth out the skin's tone and texture. IPL treatments also help improve the appearance of sun spots, acne, rosacea and hyperpigmentation. By pulling up the dark and red pigments from the skin, IPL treatments help even out skin tone and reduces the effects of aging,
Makeup can be used starting right after the treatment, as long as it is applied and removed gently. Rarely, you may experience bruising which can take 1-2 weeks to heal. For freckles, hyperpigmentation, and age spots it is normal for the spots to appear darker for 3-7 days and then flake off.
There are some periods of very mild discomfort during an IPL treatment similar to that of the feeling of receiving laser hair removal, but overall an IPL treatment is not painful. Most clients compare IPL treatments to a snap of an elastic band against the skin. Others experience it as a very short pinprick. No anesthetic is required.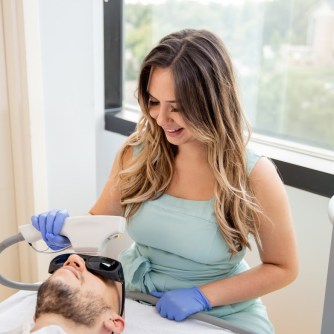 Ready to book an appointment with Ellemes Medical Spa Atlanta? Schedule an appointment online today!